Soul Soldiers
by admin
—
last modified
2011-04-13 02:21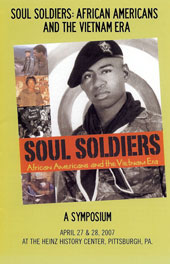 Soul Soldiers

Soul Soldiers: African Americans and the Vietnam Era is the first national exhibit to commemorate the Black Experience in the Vietnam War. This historical retrospective was launched on November 11, 2006—Veteran's Day—at the Senator John Heinz History Center in Pittsburgh, an affiliate of the Smithsonian Institution, and remained on display until Veteran's Day, November 2007. Wallace Terry is the featured journalist in the exhibition. A display case of his war correspondent memorabilia is included in the collection—his typewriter, his camera, his green Army-issue fatigues, Black Power flags, copies of Bloods in several languages—as well as his many battlefield photographs of the Bloods.

Since January of 2008, Soul Soldiers has been on tour in major urban centers and museums around the country including the DuSable Museum of African American History in Chicago, the African American Museum in Dallas and has received admiration and applause in every venue. In 2009, the exhibition is scheduled to appear at the Virginia Historical Society in Richmond and finish out the year at the Birmingham Civil Rights Institute. The 2010 schedule begins with a three-month appearance at the National Civil Rights Museum in Memphis.
Soul Soldiers Exhibit Tour
Download Exhibit Tour – See the "Wallace Terry Case"