Career of an Award-Winning Journalist
by admin
—
last modified
2011-02-09 05:25
Wallace Terry was an award-winning journalist, news commentator and bestselling author distinguished for his coverage of the Vietnam War and the Civil Rights Movement.
Wallace Terry was recognized as the leading authority on the black experience in Vietnam. His internationally acclaimed book, BLOODS: An Oral History of the Vietnam War by Black Veterans, was named one of the five best nonfiction books of the year by Time magazine, and nominated for the Pulitzer Prize.

Terry's career as a journalist and war correspondent was featured in three BBC television documentaries—The Camera at War, Muhammad Ali, and Divided We Stand: Race & the Media. He wrote and narrated the PBS Frontline documentary, The Bloods of 'Nam, and in 1995, Disney Studios released the Hughes Brothers film, Dead Presidents, based on a chapter from BLOODS.
BLOODS, published in 1984, was named Best Book of the Year by The Baltimore Sun, a Notable Book by The New York Times, honored by 52 cities and states, and by the U.S. Congress and Vietnam Veterans of America. Adaptations of BLOODS have won the NAACP Hollywood Image Award, the Gold Cindy, and a national Emmy nomination. Terry's one-man show, BLOODS: An Evening with Wallace Terry, was performed at more than 200 colleges and universities. In 1987, Terry was named Entertainer of the Year by the National Association of Campus Activities. BLOODS continues to be required reading at colleges and universities across the country.
Terry's second book, MISSING PAGES: Black Journalists of Modern America: An Oral History was published posthumously in 2007. MISSING PAGES is a collection of nineteen interviews with black men and women who were pioneers in journalism. The stories they covered were some of the most important in the 20th Century and many times at great danger to their lives. Chuck Stone's toes froze in fear when he found himself as a go-between and negotiator for prison officials and inmates during a prison uprising; Hank Brown had his camera focused on President Ronald Reagan at the exact moment he was shot; a white pistol-packing sheriff told Jimmy Hicks he had to sit at the Jim Crow table during the murder trial of Emmett Till; when Karen DeWitt arrived at a small rural town in Arkansas to cover the "mood of America," she discovered she was the only black person in the town; the Black Panthers wanted Earl Caldwell to let them steal his New York Times rental car. These are riveting accounts of war and death, loyalty and betrayal, encounters with racism and sexism, and of incredible experiences that are artfully and honestly told by some of the best in the business.
Terry wrote and narrated the only documentary recording from the battlefields of Vietnam, GUESS WHO'S COMING HOME: Black Fighting Men Recorded Live in Vietnam, released in 1972. GUESS WHO'S COMING HOME was re-released in 2006.
In a pioneering career that began with an invitation to join the Washington Post when he was only 19, Terry was a reporter, a Washington-based correspondent, radio and television commentator, lecturer, university professor, advertising executive, ordained minister and advisor to the Air Force, Marine Corps and Veterans Administration. As a reporter and war correspondent, Terry's scoops landed his photograph on the front page of the New York Times, and his stories across the pages of the Washington Post and Time magazine. As a news analyst, he appeared on the Meet the Press, Face the Nation, CBS Evening News, the BBC, and Agronsky & Co. He was a guest on the Today Show, CNN, C- SPAN, the Larry King Show, Good Morning America, and Soul Train. His news commentaries were heard on CBS Radio Spectrum, Mutual Broadcasting, National Public Radio, Voice of America, Black Entertainment Television, and WUSA- TV and WTOP Radio in Washington.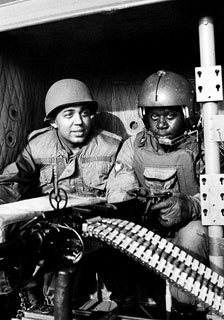 Terry originated the op-ed page of USA Today and was contributing editor at Parade. At Time, Terry had exclusive interviews with Adlai Stevenson, Martin Luther King, Jr., Lyndon Johnson, Jimmy Hoffa, Malcolm X, Adam Clayton Powell, Medgar Evers, and Bobby Seale. As a member of the founding staff of USA Today, he interviewed Jimmy Carter, Edward Teller, Marian Wright Edelman, Jerry Falwell, and John Lewis. At Parade, he wrote profiles that included Dick Clark, Morgan Freeman, Gregory Hines, Christopher Walken, Stevie Wonder, Don Johnson, and James Earl Jones.
In 1991, he received the Medal of Honor for Distinguished Contributions to Journalism from the University of Missouri. In 1992, he became the first J. Saunders Redding Visiting Fellow at Brown University and was named Seigenthaler Lecturer of the John Seigenthaler Chair of Excellence in First Amendment Studies at Middle Tennessee State University. In 1993, he was named Class of 1939 Artist-in-Residence at The College of William & Mary .He taught "Eyewitness to the Sixties: Malcolm X, Martin Luther King, Lyndon Johnson and the Vietnam War," based upon his career.
In the year 2000, Terry originated and organized Rendezvous with War, a national symposium commemorating the 25th anniversary of the end of the Vietnam War. The conference was sponsored by Vietnam Veterans of America and The College of William and Mary, bringing together for the first time many of the most renowned journalists who covered the war.
Also in 2000, Terry and his son David, a New York-based artist, combined their work in an exhibition called The Way We War. The exhibit featured Terry's combat photography in Vietnam with David's interpretations in sculpture. The show opened in Manhattan and received an admiring review in the New York Times.
Terry was born on April 21, 1938 in New York City and raised in Indianapolis. At Brown University, Terry became the first black editor-in-chief of an Ivy League newspaper. It was there that he snagged his first national story when a photograph of him shaking hands during an interview with the segregationist governor of Arkansas was published on the front page of the New York Times and newspapers around the world. The photograph led to an offer to become a reporter for the Washington Post.
Terry did graduate studies in theology as a Rockefeller Fellow at the University of Chicago, and in international relations as a Nieman Fellow at Harvard University. He was the Gannett Professor of Journalism at Howard University, and a trustee of Brown, the College of William and Mary, and the Disciples Divinity House of the University of Chicago. He belonged to Phi Beta Kappa, the Omega Psi Phi Fraternity and was an ordained minister in the Disciples of Christ Church.
For three consecutive years, he was president of the Capital Press Club—from 1963 to 1965—and a past member of the National Press Club and the White House Correspondents Association.
In his coverage of the Civil Rights Movement for the Washington Post, Terry wrote the first newspaper series on the Black Muslims, followed demonstrations in Danville, Jackson, Birmingham, and Selma, and reported the first story on the movement's turn toward Black Power nationalism. When Terry joined Time in 1963, he became the first black Washington correspondent for the mainstream media and the first black news magazine reporter. For Time, he covered urban upheavals in Harlem—where he was knocked out cold by a brick hurled from a rooftop—Watts, Detroit and Newark, as well as the 1964 Presidential campaign, labor, housing and the White House.
In 1967, Terry left for Vietnam where he became deputy bureau chief for Time in Saigon and the first fulltime black war correspondent for the mainstream media.
For two years, he covered the Tet Offensive, flew scores of combat missions with American and South Vietnamese pilots, and joined assault troops in the Ashau Valley and on Hamburger Hill.
His fellow reporters cheered his daring rescue with a fellow correspondent, Zalin Grant, of the bodies of four reporters killed by the Viet Cong during the May 1968 Offensive.
In his speeches, Terry would recall a letter written to him from a Dutch reader of BLOODS who had been captured by the Japanese in World War Two: "When a [white] man sees himself in the experience of a black man, then I had done what I had always wanted to do as a journalist. To make America understand there is nothing about the black experience that is not first and foremost human and universal. If we can understand that, we can live with each other in a much better way."
After his tour in Vietnam, Terry was appointed as the first Frederick Douglass Professor of Journalism at Howard University. He helped place many of his students in major news organizations. He also helped numerous young black men and women find scholarships to colleges and universities. And he was a tireless and devoted advocate for all veterans of the Vietnam War, serving on numerous national boards and committees which address veterans' issues.
Terry died on May 29, 2003 of Wegener's granulomatosis, a rare vascular disease which strikes about one in a million people. He is survived by his wife of 40 years Janice Terry (nee Jessup) who was his researcher and editor during his career; and their three children—Tai, Lisa and David—and two grandchildren, Noah and Sophia Marcus.